Event Registration - North East Association for Institutional Research (NEAIR)
45th Annual Conference
11/3/2018 - 11/30/2018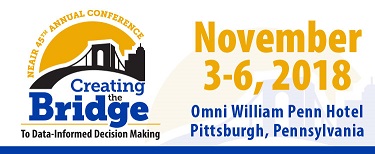 Early Bird Deadline ends October 12th!

Things to Know Before You Register:
An active NEAIR membership is required to attend.

Please be sure to book your hotel room as reservations are based on availability.

If you want to add a workshop or make changes to your registration at a later point, please contact NEAIR.

Please print out the confirmation email you receive for your record of meals and workshops selected.
Questions?
Contact NEAIR at neair@neair.org.
Location: Omni William Penn Hotel, 530 William Penn Place, Pittsburgh, PA 15219